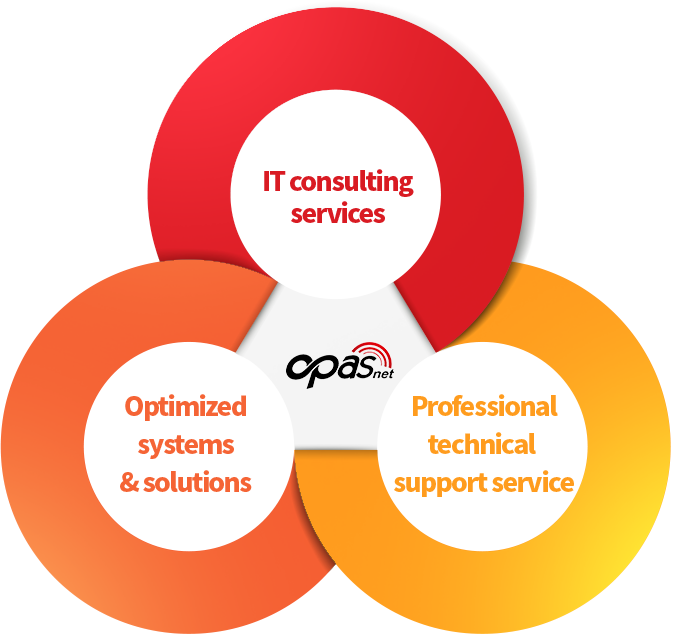 IT Consulting Service for Corporate Innovation
Opasnet makes every effort to generate the values based on the understanding of client's business, on the basis of the insight and technical expertise across IT industry. We provide you with the best cost-effectiveness in the process of every project, with a member of experiences developed by the large-scale IT projects that we have performed. In addition, we firmly believe that securing quality and prior risk management is our top priority. Client's business should keep the progressive continuity connecting into the past, the present and the future. Therefore, we provide you with the consulting to take into account the various situations of clients such as IT consulting, system design and facilitation, maintenance and network outsourcing, which meets current factors and future conditions.
01
IT United-professional Technology
02
IT Consulting to Meet
Every Business
Condition
03
System Design and Integration
04
Professional
Management
Providing Optimized System and Solution
The compatibility between the previous system and newly introduced system should be considered as the most important thing when IT resources or systems are introduced. Further, the information that any solution provides should support each business in real time. Opasnet proposes united-IT solution including professional operation management and we offer customized designs and integrated structures in order to advance corporate asset utilization and maximize it when we provide you with system and solution needed for innovation through our consulting.
01
System Compatibility
(minimizing system
change)
02
Bulk Storage Processing
in Real Time
03
Providing H/W System
and Application Visibility
04
System Management
Support by the Solution
with Artificial
Intelligence
Specialized, Technical Support Service
Opasnet provides you with the trust and stability of our service by establishing necessary performance conditions of operation and maintenance service based on accident and behavior in the service area while aiming at the continuous advance of IT service and offering integrity and non-disruptive service. In particular, when it comes to fault recovery program, we operate End-to-End quality system united with real-time event monitoring and immediate response system for proactive detection and immediate response after fault by advancing quality management activities targeting following-up control. In addition, we practice the integrated quality management united with the mission of People, Process and Technology for such a specialized technical support.
01
Providing Non-disruptive
and Integrity IT
Service Quality
02
Management and Maintenance Based on Process
03
Proactive Detection
Activity for Fault
04
Operation Management based on Field
Professionals